Our Bid for Active feature allows drivers to browse a list of active bookings and place bids on any suitable jobs.
In 365 Management, you can configure how this feature functions, allowing you to disable the feature altogether or alter it to your ideal settings.
Dispatch Configuration
The first section to modify is Active Booking Bidding:
In 365 Management, use the left-hand menu and navigate to Dispatch > Dispatch Configuration > Bidding.
Under Active Booking Bidding, toggle on Enable Bidding for Active Bookings to activate bid for active.

To disable bid for active for your drivers, simply toggle the setting off and the feature (and all other related settings) are deactivated.

For the setting Enable New Active Booking Notification, select your preference from the following options:

Off: Disables the push notification off-app drivers receive when a new active booking is available to bid on.
When Clear: Turn on to send drivers who are clear for new jobs a push notification when a new active booking is available for bidding.
Always: Turn on to send all online drivers a push notification when an active booking is available to bid on.

Configure the setting Limit Number of Bookings Shown to set the number of bookings (1-10) that display to the driver in the To Bid list.
Optionally, you can specify a special job recipe for Default Job Selection Recipe from the dropdown list that filters which active bookings a driver can bid on.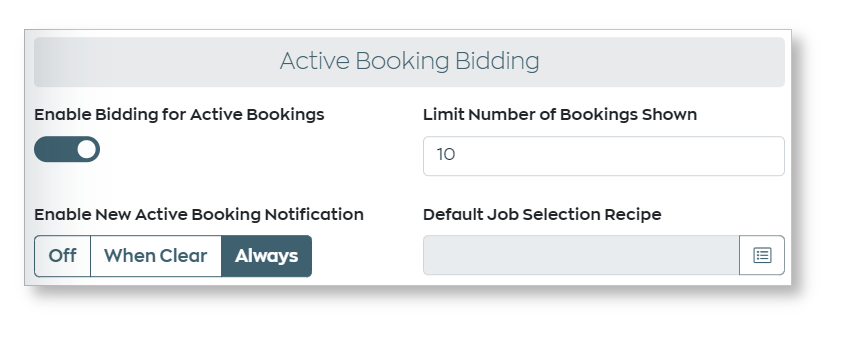 Functionality Groups
You can also activate booking bidding for Functionality Groups, allowing you to designate groups of drivers who can participate in bidding for active bookings:
In 365 Management, go to Drivers / Vehicles > Driver Companion > Settings Groups > Functionality Groups.
Create a new group or edit an existing one.
In the Edit Functionality Group modal, open the Features tab.
Locate the setting Active Booking Bidding Mode and select an option from the following:

Off: Select to disable active booking bidding for this particular functionality group.
Use Default: This option uses the default settings from your Dispatch Configuration settings (see the section above for details).
Custom: Use this option to select a Special Booking recipe for the Job Selection Recipe setting, which filters the active bookings this group of drivers can bid on.

Additional Reading
For further reading on creating recipes to use for custom active bidding modes, see Creating Special Bookings Recipes.
Our feature focus article on Bid for Active highlights how your drivers see and interact with the feature in their Driver Companion app.