Booking Stations are a feature that enables individuals who are not registered users on the Corporate Accounts Portal to make a booking quickly and efficiently. With Booking Stations, the booking process can also be streamlined and made more efficient by allowing a customised booking experience through the addition of Booking Templates.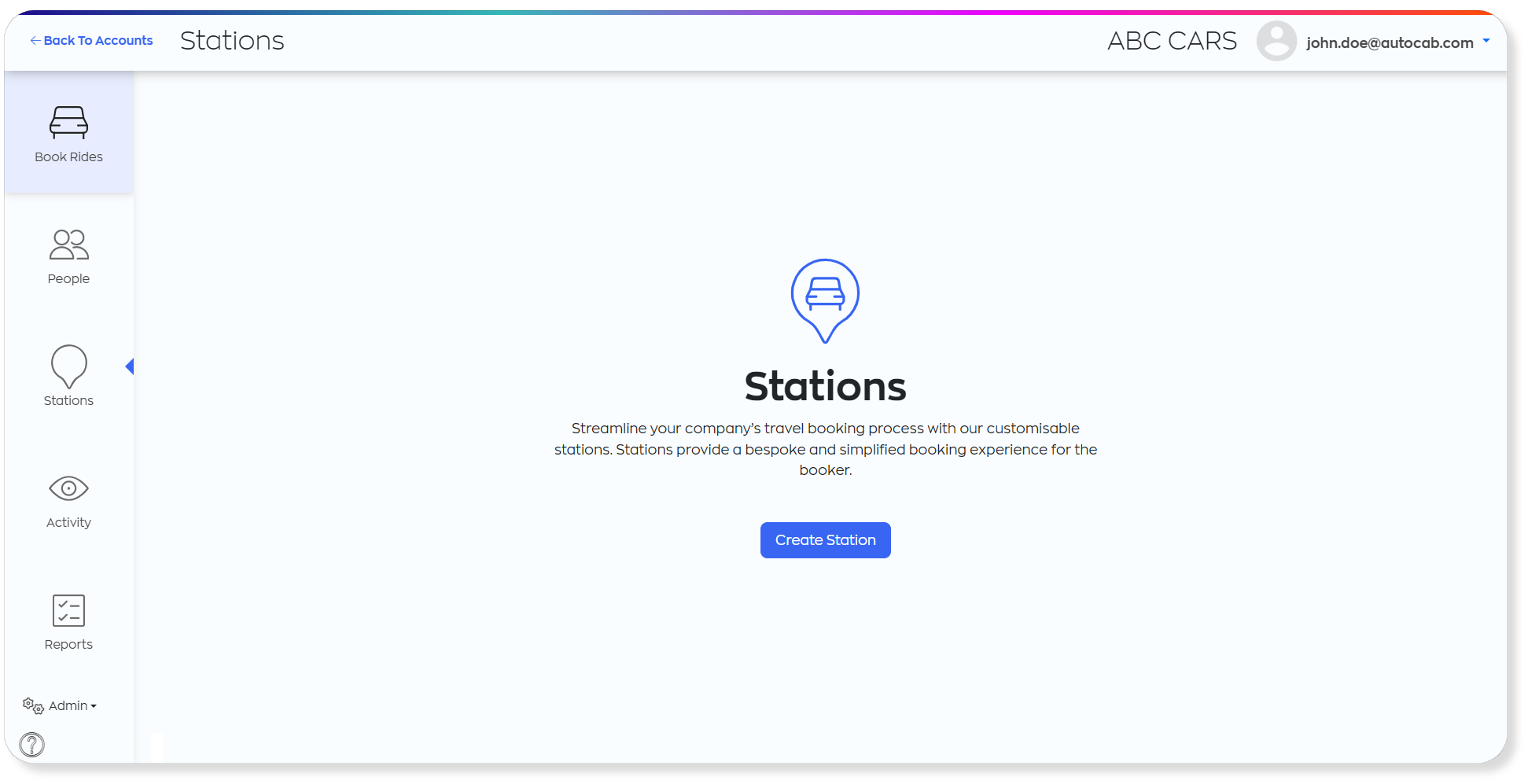 To access this section:
In the portal, you must first select an account under Accounts and select the Access Profile button.
Now in your account, use the left-hand menu to open the Stations section.

Once in the Stations section, you can proceed to add a new booking station or make changes to an existing one.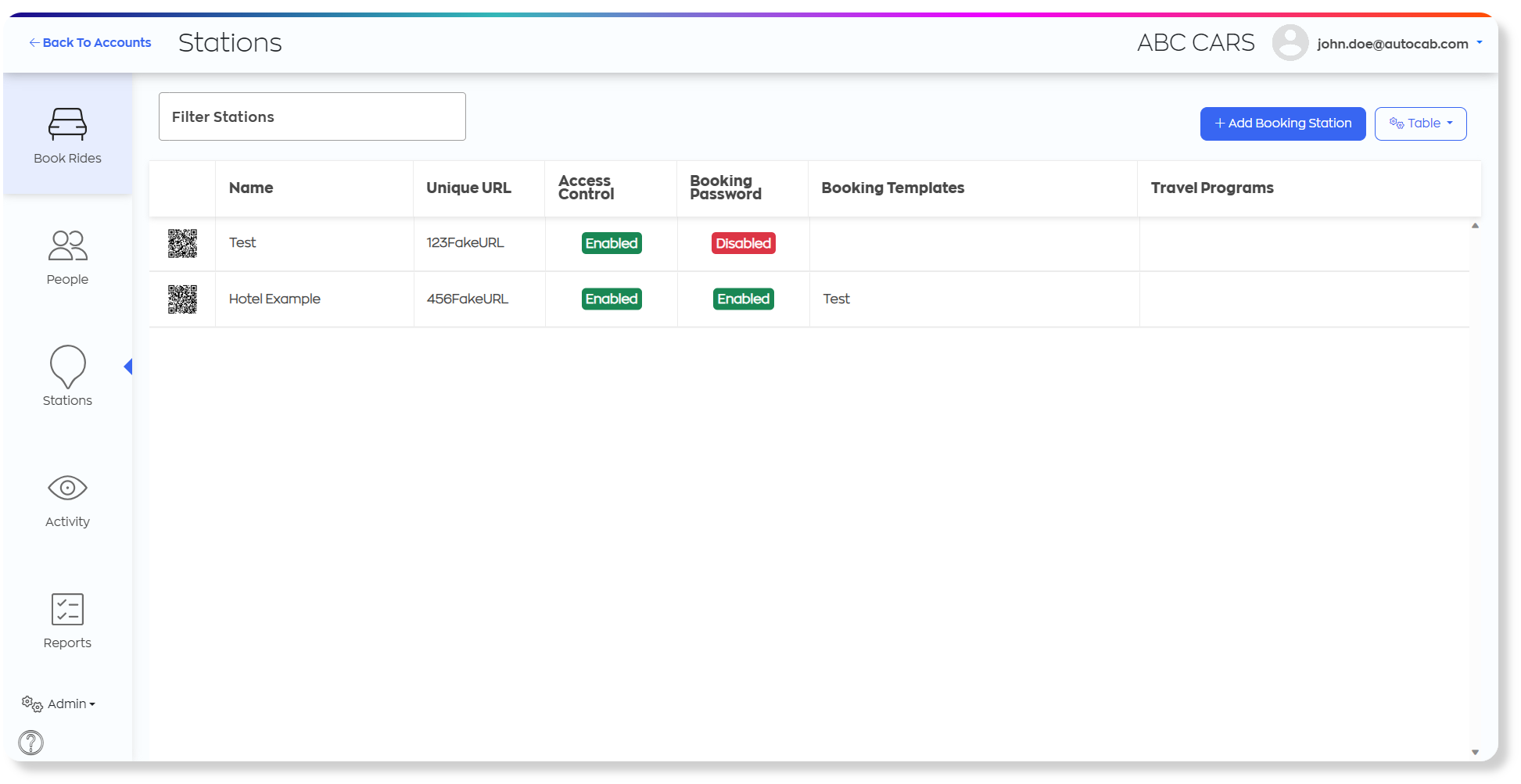 If you have not created a station previously, a landing page appears, from this select the button to Create Station. Otherwise, click on the Add Booking Station button.
Name Section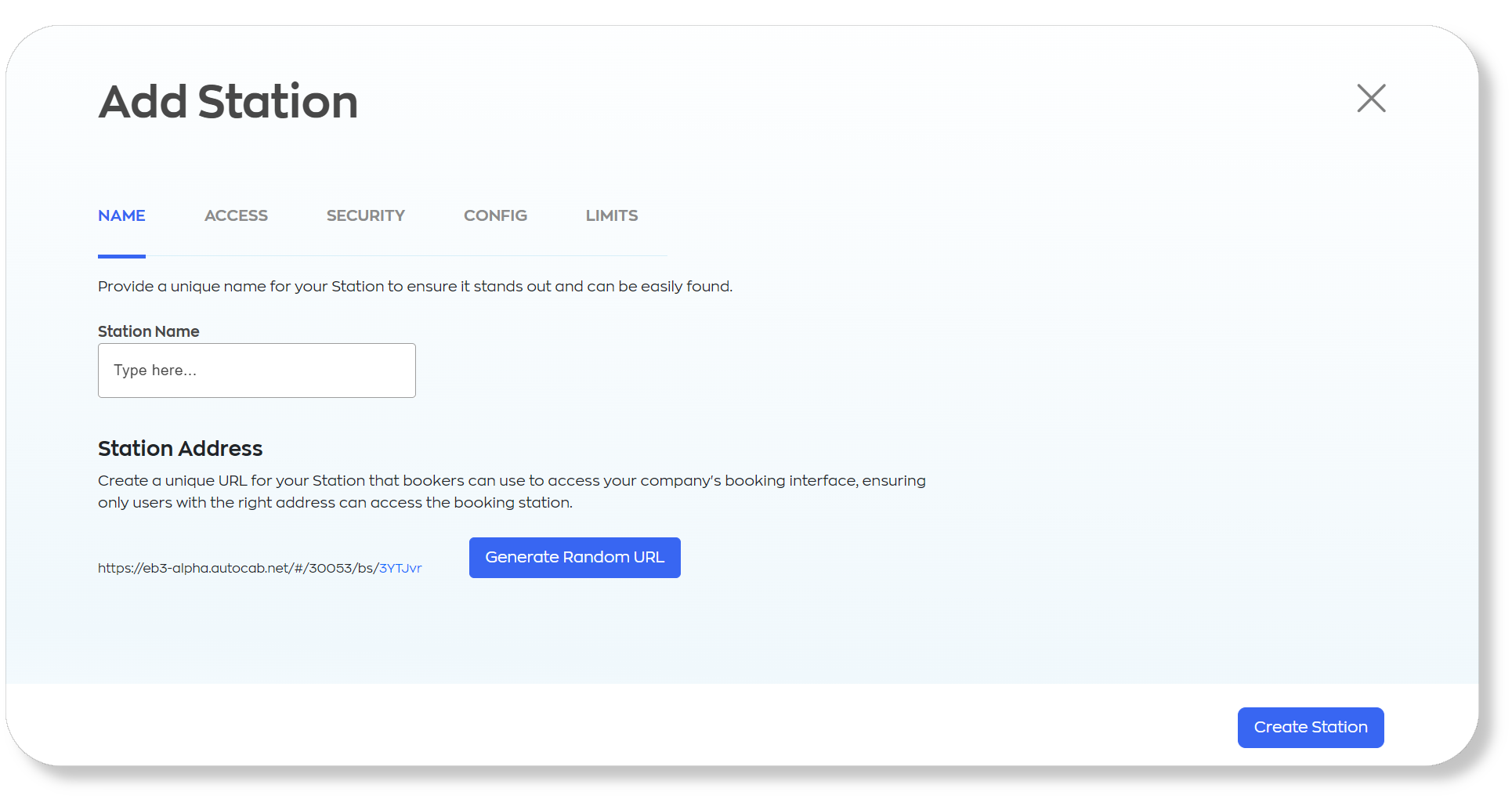 The first step in creating your station is the Name section. There are five total sections to configure.
Enter a suitable name in the Station Name field to ensure it can be easily found.
Under Station Address, click the Generate Random URL button to create a unique URL for your station where bookers can access your company's booking station interface.
Or click on the URL to open a textbox and enter a customised URL.
This ensures that only users with the correct URL can access the booking station.
Access Section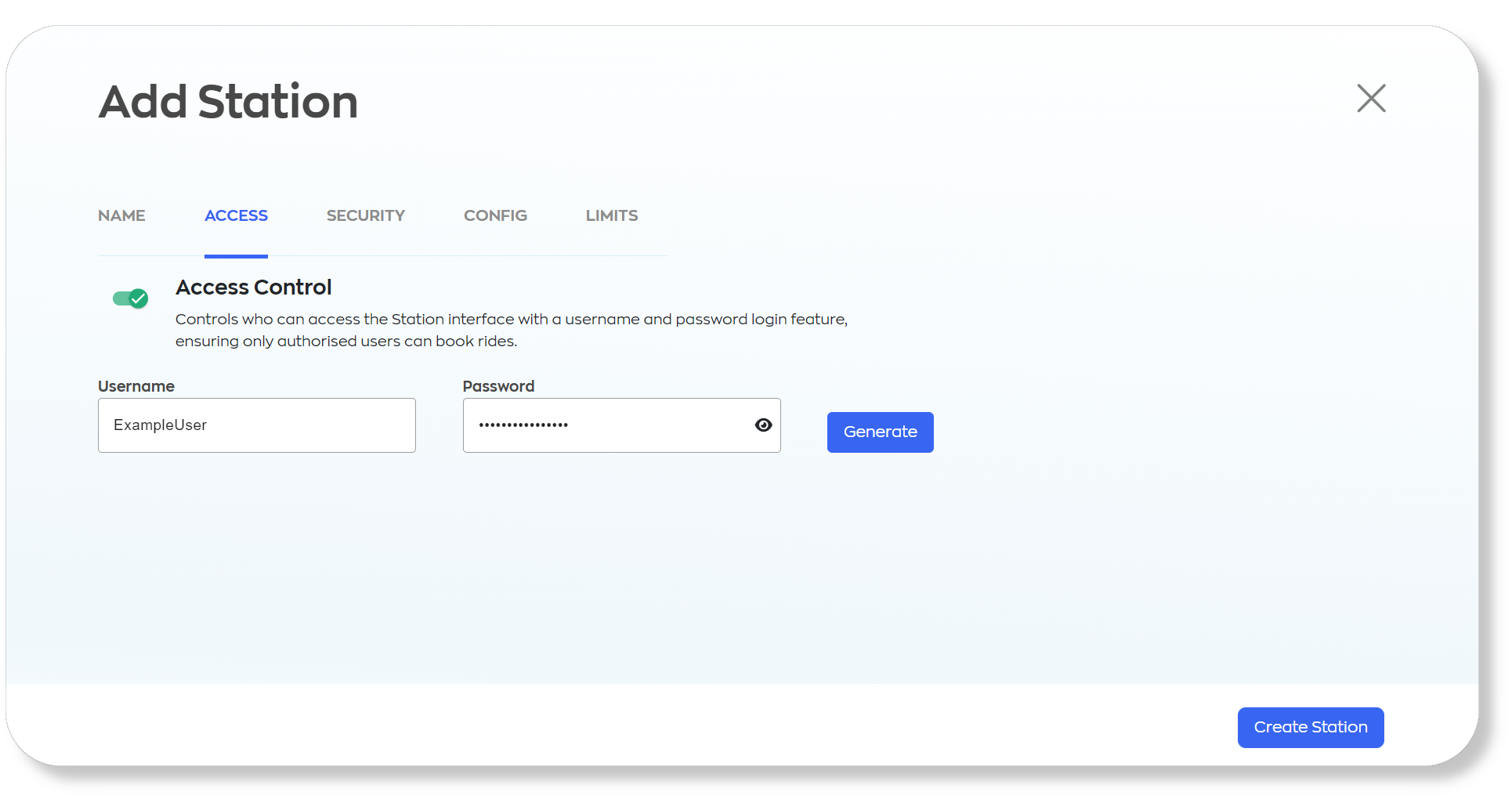 In this section, you can toggle on Access Control, which controls who can access the station interface with a username and password.
To enable, click the toggle button to turn on Access Control.
In the relevant text fields, provide a suitable Username and Password. Please note that anyone who books trips on this station uses the same username and password.
You can also use the Generate button to generate a random password.
Important: If Access Control is disabled, cash trips are not allowed to be booked on the station, account bookings only.
Security Section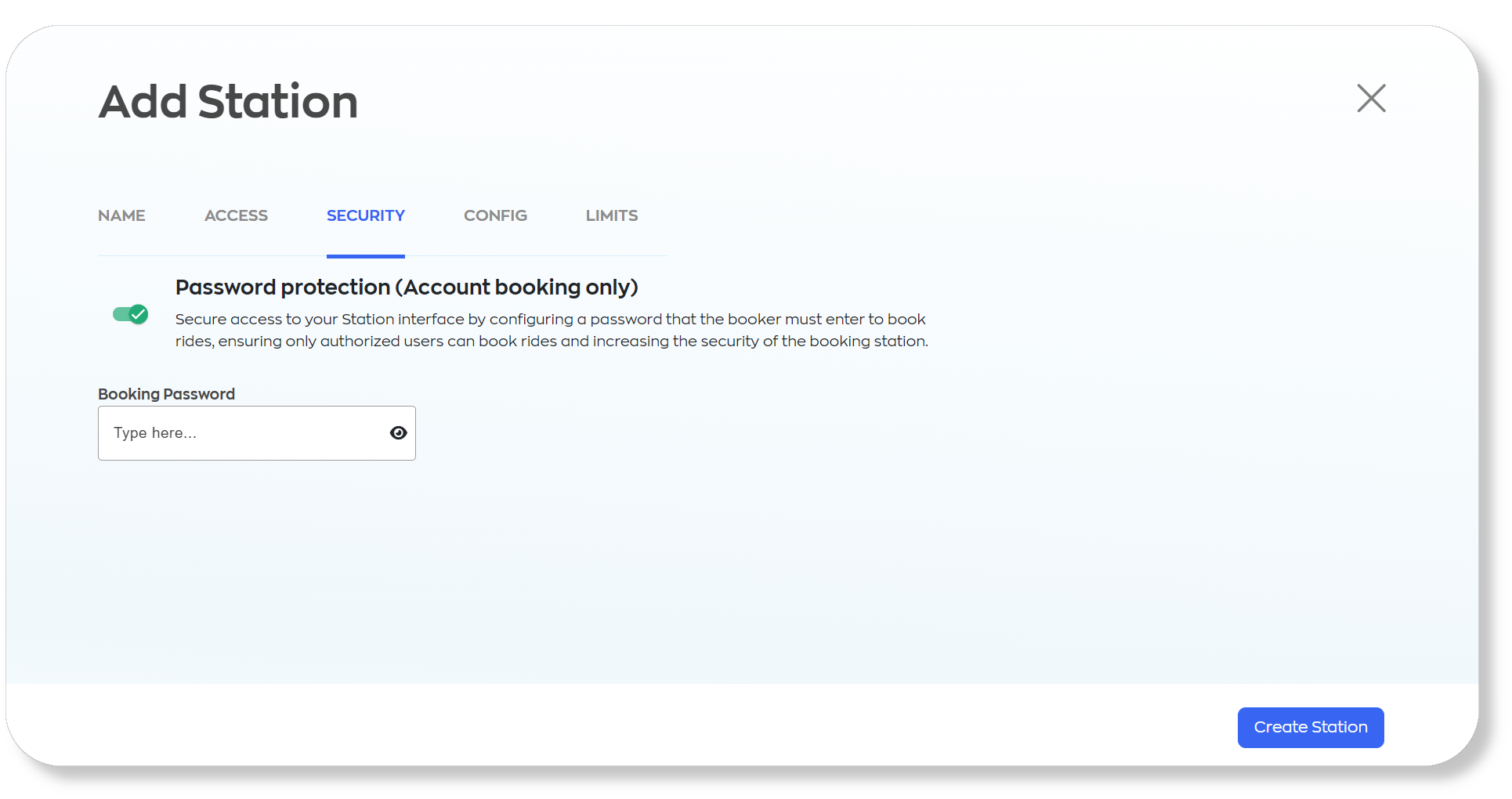 Here you can add extra measures to ensure the security of your system by adding a password that must be entered when booking an account trip on this station.
To enable this:
Toggle on the Password protection setting.
A Booking Password text field appears, in this field, enter an appropriate password.
Important: You must have either Access or Security enabled. Both options cannot be disabled simultaneously.
Config Section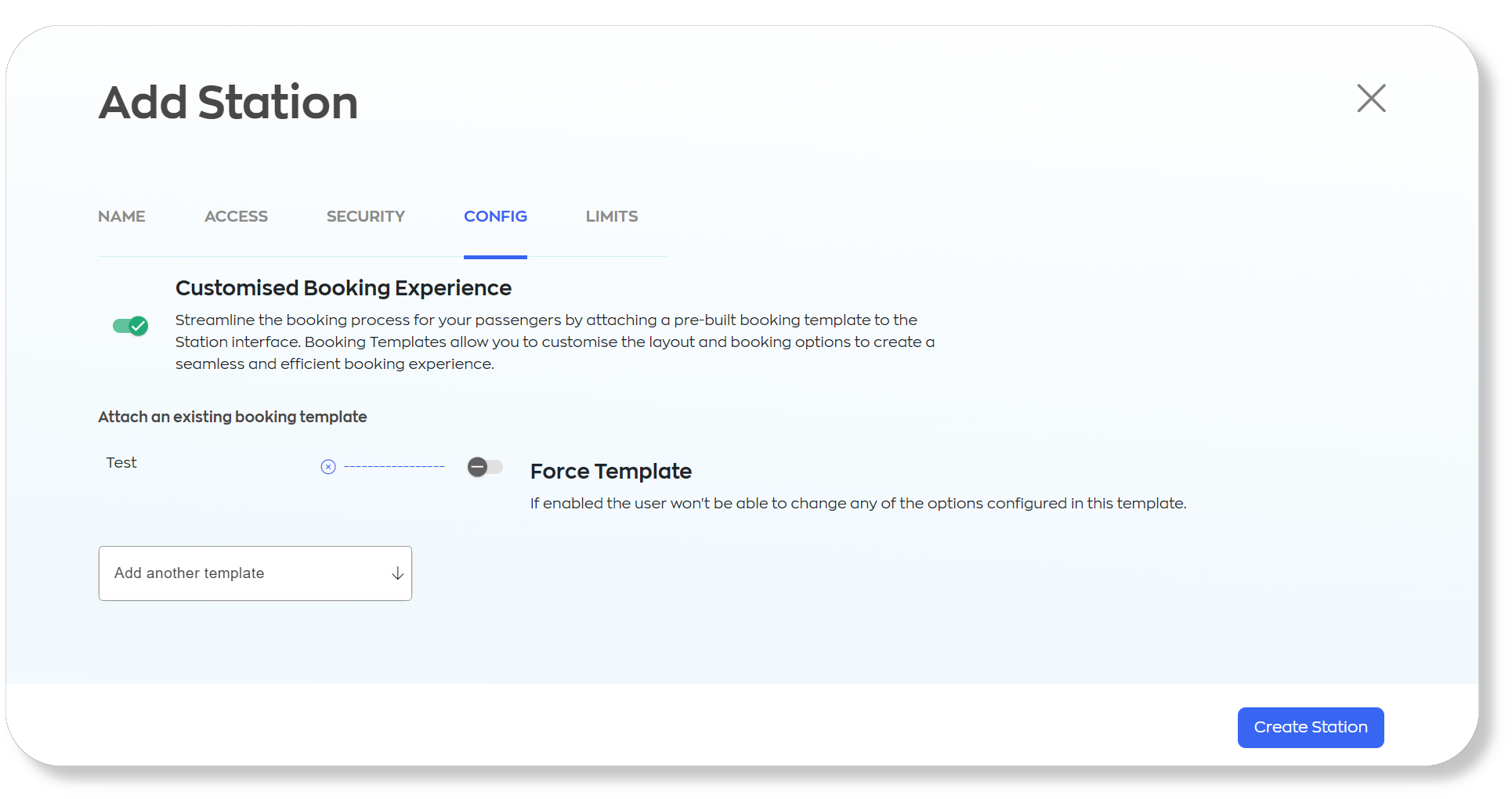 In this section, you can add Booking Templates allowing you to give your users a customised booking experience. These are the Booking Templates that you create under Admin which allow your passengers to quickly book repeat journeys, for more information, see our Booking Templates article.
To enable this customised experience:
Click on the toggle button to enable Customised Booking Experience.
Select the dropdown menu under 'Attach an existing booking template' and choose one or multiple templates from the list.
You can toggle on Force Enable for a singular booking template to prevent a user from changing any of the options configured in this template. This also ensures this template is always used.
You can assign multiple booking templates to the station; these will appear in E-Booker for your users to select from. If you have toggled on Force Enable on a template, you will be unable to have multiple booking templates.
To remove a booking template, click the Blue Cross (

) next to the template to remove.
Limits Section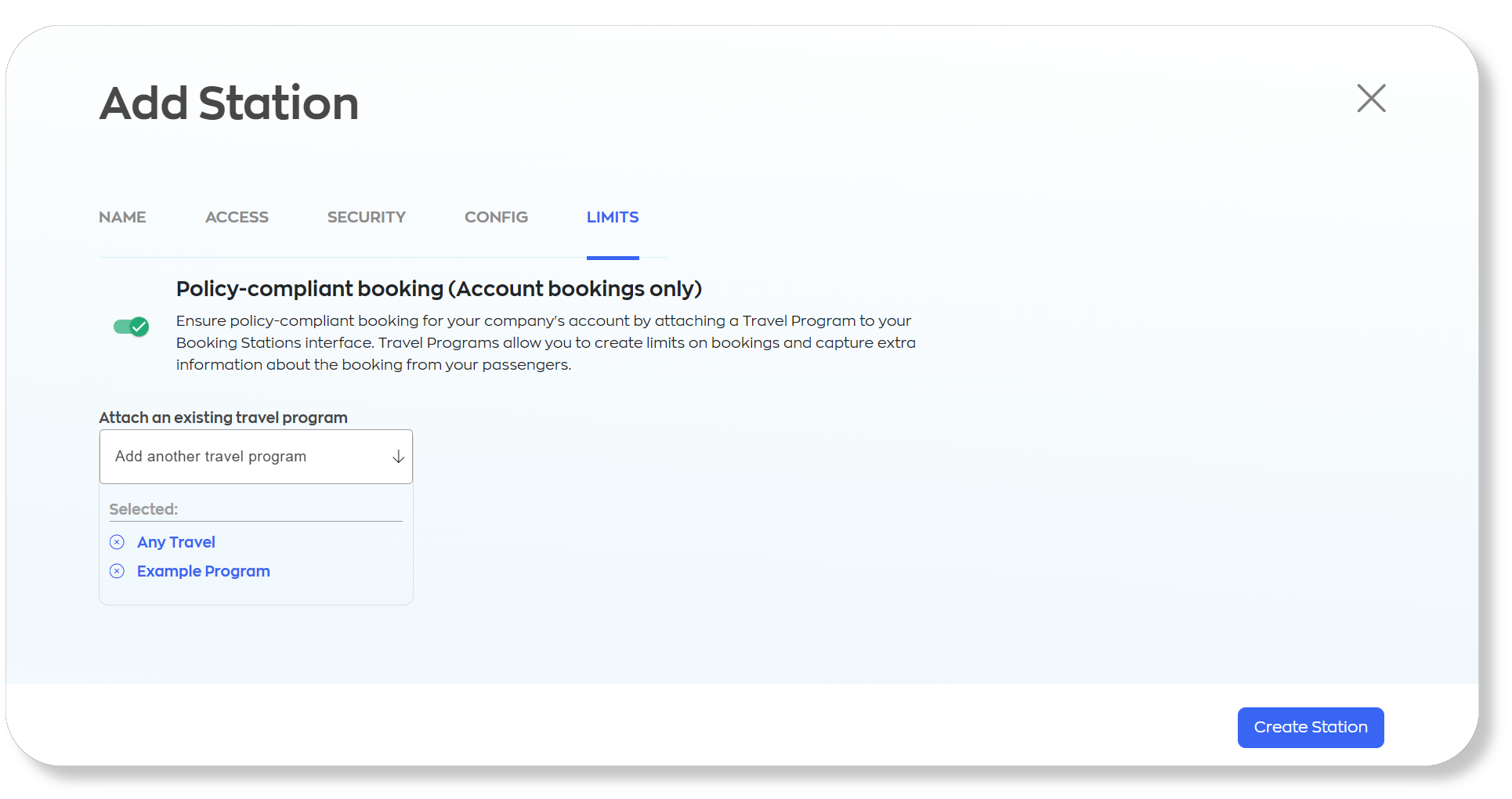 The Limits tab is where you can attach a travel program to your Booking Stations interface, placing limits on account bookings and opening the ability to capture extra information about the booking from your passengers. To add a program:

1. Toggle on the Policy-compliant booking setting. Leaving the setting disabled permits open account bookings.
2. Under the 'Attach an existing travel program' use the dropdown menu to select one or multiple travel programs.

Creating the Station
After completing the configuration of the Booking Station, click on the Create Station button located in the bottom-right corner to create your station. Once created, your station will be fully functional and ready to accept bookings.
Upon clicking the Create Station button, a pop-up appears with a QR code, URL and a text box. You can scan the QR code or click the URL to open your brand-new booking station.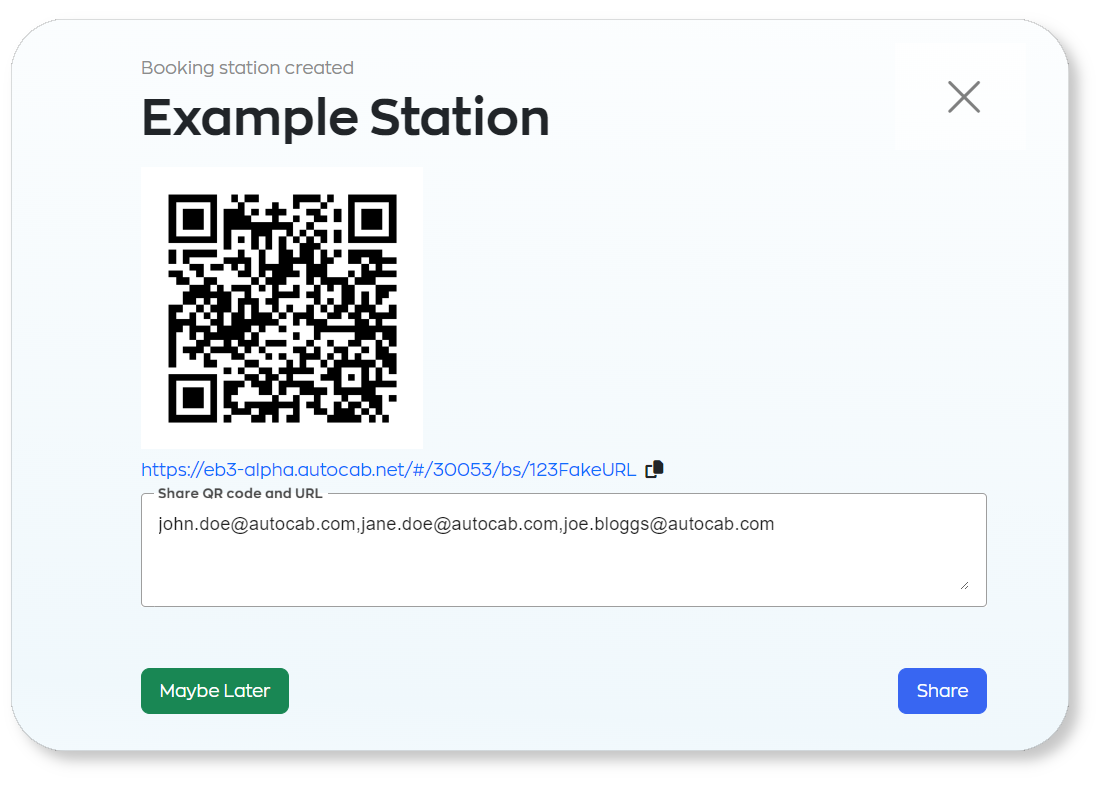 To easily share the QR code and URL with your users:
You can enter email addresses spaced by a comma or a new line in the provided textbox. After entering email addresses, press the Share button.
To return to the Name tab, select Maybe Later or use the Close ( X ) button in the top-right corner.
For information on how the station appears within E-Booker, see Booking via Booking Station.