The Phone screen allows you to configure the settings for your Phantom or external phone system.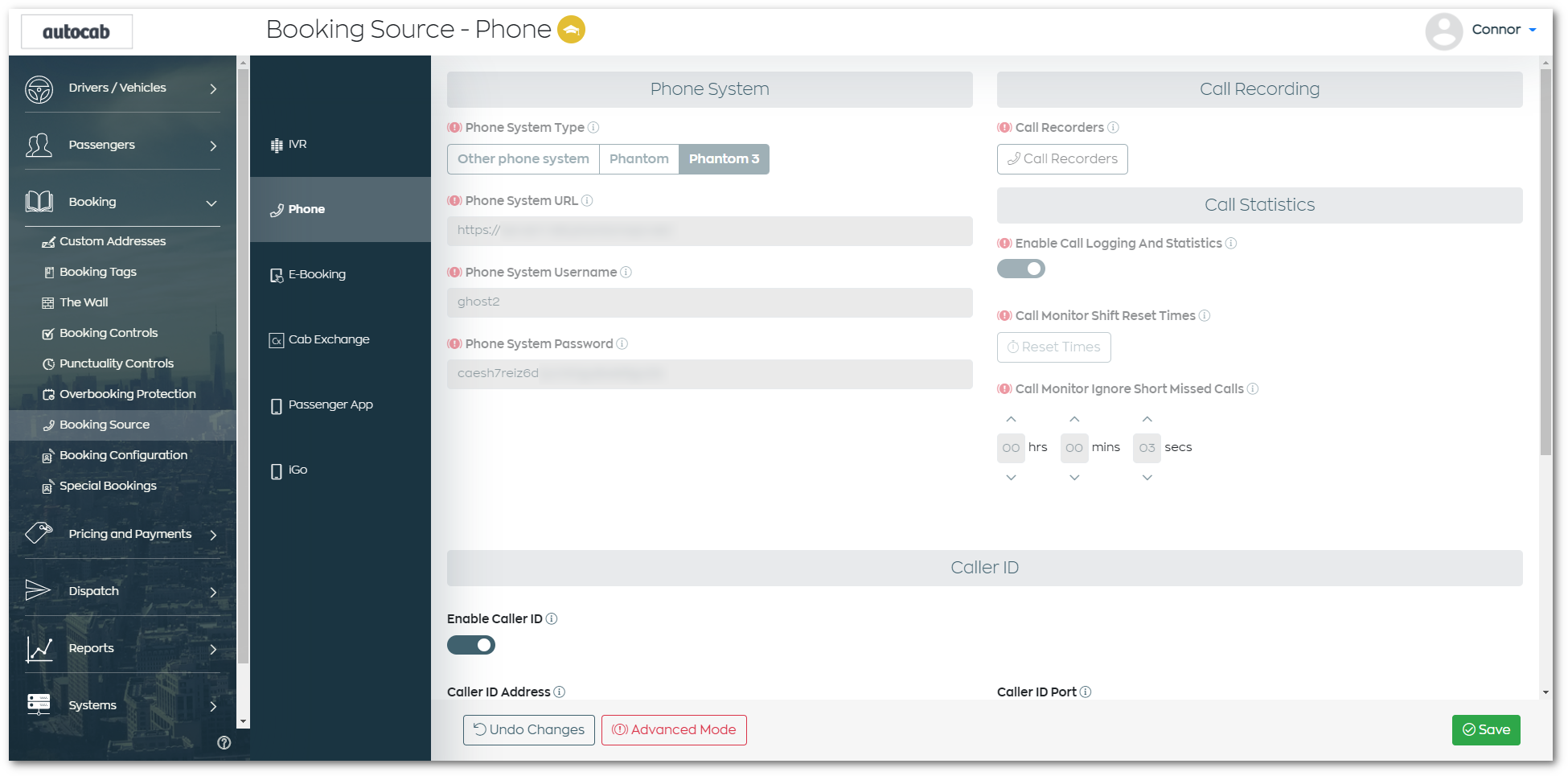 To access this screen:
Click on IVR from the Booking > Booking Source dropdown menu.


The following settings can be configured:
Phone System
Phone System Type: Select which phone system type is being used.
Phone System URL: Enter the web address of the phone system's interface.
Phone System Username: Enter the username for the phone system.
Phone System Password: Enter the password for the phone system.
Call Recording
Call Recorders: Enter the details for the call recorder machine so calls can be recorded and listened to.
Call Statistics
Enable Call Logging And Statistics: This should be enabled to ensure calls are logged and statistics recorded.
Call Monitor Shift Reset Times: Only used for testing the old call monitoring software.
Call Monitor Ignore Short Missed Calls: Set how long a call can ring for before it is classed as a missed call.
Caller ID
Enable Caller ID: Enable to show a customers caller ID and previous booking details when they call to place a booking.
Caller ID Address: Enter the IP address of the CLI machine.
Caller ID Port: Enter the Port number of the CLI machine.
Booking Alert Mode: Select if current or previous bookings should show on the booking form when a customer calls.
Booking Alert Events: Enable to display caller ID event alerts.

Call Answered: Enable to display a customers Caller ID records when the call is answered.
Call Transferred: Enable to display a customers Caller ID records when the call is transferred.

Caller ID Booking Fields: Select which booking fields should be attached to the caller ID when placing a booking.
Called IDs: Click to add caller IDs for your company.
CLI Default Booking Mode: Select ON for both landlines and mobiles to ensure CLI records are saved for both sources.
Maximum CLI Records Per Phone Number: Set the maximum number of CLI records to display per phone number.
Minimum Valid Phone Number Length: Set the minimum length for valid phone numbers.
Local Area Code: Set your company number local area code.
To access the advanced settings:
Click on the Advanced Mode button.


The greyed out setting can then be accessed.
Note: The advanced settings are [ Engineer Only ] and should only be changed by a qualified Autocab engineer.