The Softphone feature allows you to use a fully integrated phone built into 365 B&D that doesn't require any external installation.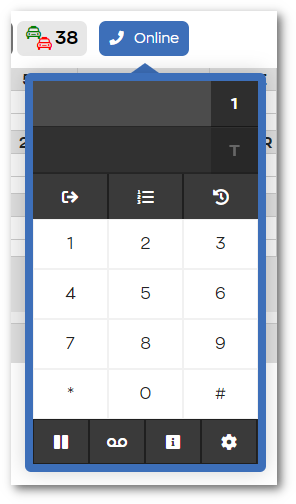 Note: The softphone is only available for Phantom Cloud, and while the softphone panel is open only the softphone shortcuts will be useable.
To use this feature after loading into the Dispatch screen:
Select 'Integrated' as the CLI Settings and enter your Extension number.


Then click Confirm.
Once done you should now see the (Online) button next to the Vehicle Summary, indicating your current status.

To open the softphone panel:
Press F12 or click on the (Online) button.


To view the call history:
Press the H key or click on the (Clock) button.


To view the agents or calls waiting:
Press the W key or click on the (i) button.


To access the softphone settings:
Click on the (cog) button.


Note: You can also enter a phone number and press C to call it, doing so will update your status accordingly.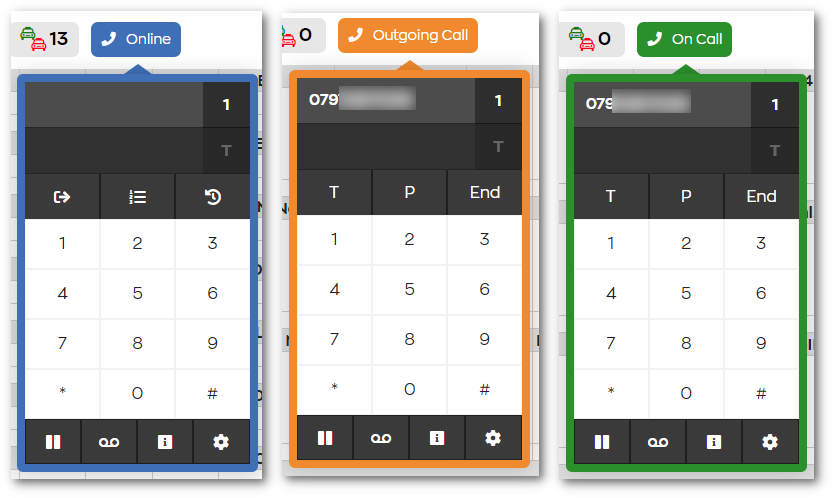 Shortcuts
Shortcut Keys (STAR codes can also be used):
F12 (Open/ Close Keypad): Open or close the softphone keypad.
Esc (Close Keypad): Close the softphone keypad.
C (Call Number): Call the number you've entered.
A (Answer): Answer an incoming call.
M (Mute): Mute an active call.
P (Park): Park an active call and retrieve it by dialling the call park number from the Wallboard (e.g. 701, 702).
W (Toggle Information): Show the agents logged in and the call waiting.
H (Toggle History/ Hold): Toggle the call history or put a call on hold.
T (Transfer): Transfer a call.
B (Blind Transfer): Transfer a call to anyone available.
A (Attended Transfer): Put a call on hold and initiate another call to confirm whether the other operator wants to take the call or not
V (Voicemail): Send a call to voicemail.
Ctrl+A (Answer/ End): Answer or End a call when the keypad is not visible.
Backspace/Delete (Delete): Delete an entered number.
Note: You should ensure you have your browser page unmuted and allow access to the microphone if requested.