Here you will find the latest features, improvements, and bug fixes for 365 Booking & Dispatch.
To ensure you have the best experience using our product, we recommend always updating to the latest version available.
Note: The features available to you within 365 Booking & Dispatch will depend on your company's configuration of the product, and the current version you are using.
Note: The minimum version of Ghost required is 15.000.447.
What's New
Zone IVR Override
A new shortcut has been added to the Zone IVR Control screen that allows you to toggle a zone's IVR override.
Space (Toggle Override): Override IVR schedule to set it to OFF.
Driver Text Message
Operators can now send a text message to drivers from the dispatch screen and when viewing/editing a booking.
To send a new text message:
Press F9 and then F3 while on the dispatch screen.


Select a driver(s) and enter the custom message.


Then click OK.
Note: The 'Message' field will be automatically populated with the booking details if you're sending the message while viewing or editing a booking.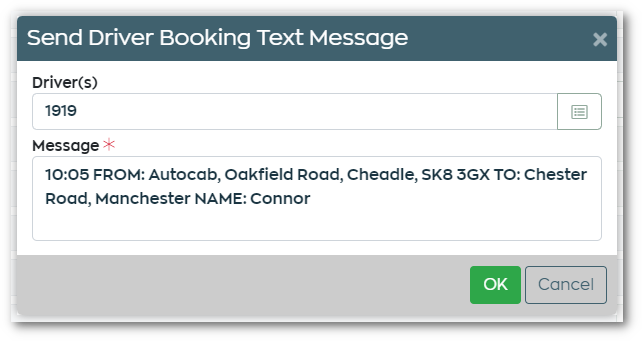 Bug Fixes
Fixed: Various issues with shortcut keys.