The Pricing Zones screen allows you to create pricing zones by drawing/plotting them on the map.
This is useful if you want to have different prices when entering each zone, and apply them to your tariffs.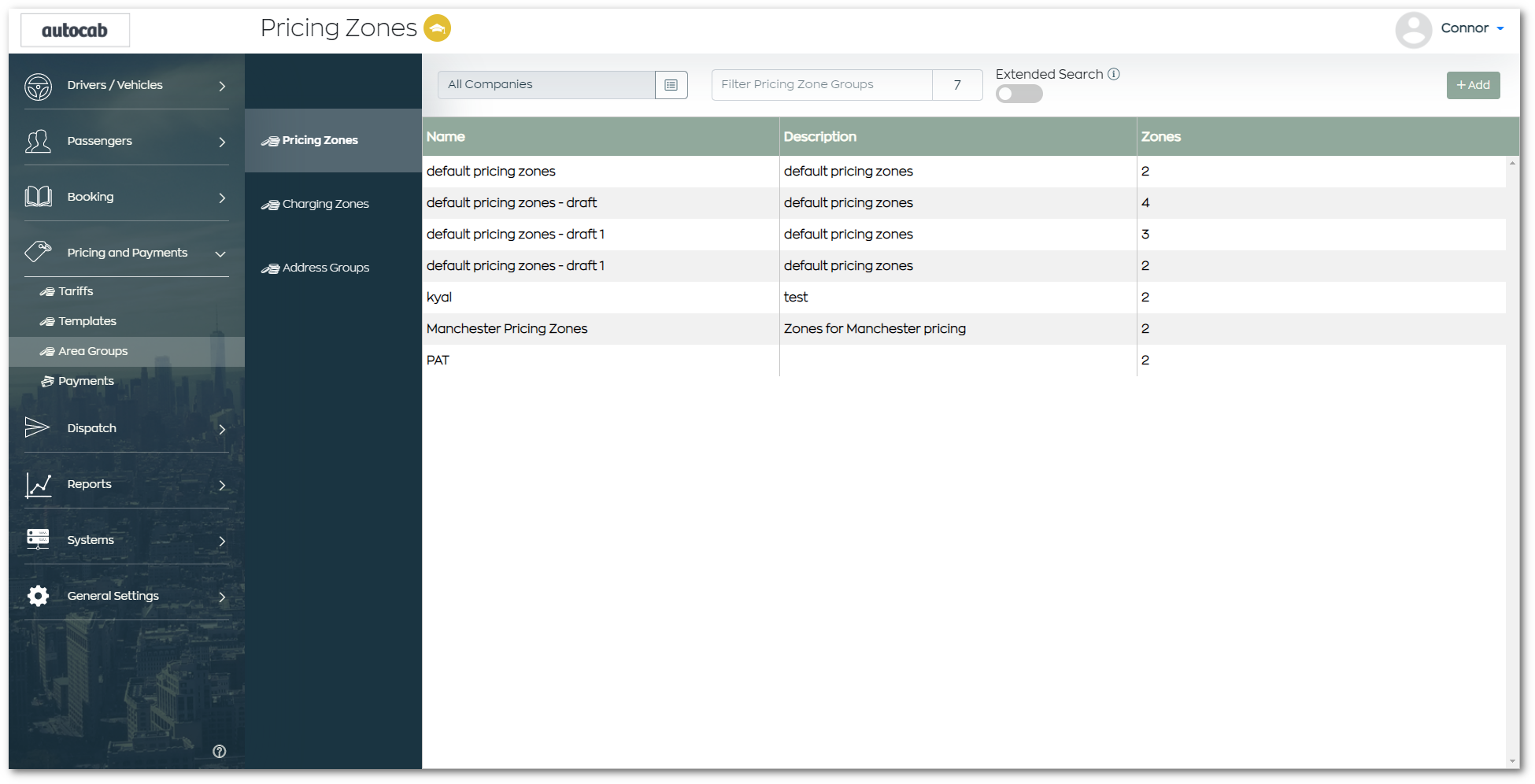 To access this screen:
Click on Pricing Zones from the Pricing and Payments > Area Groups dropdown menu.


Add pricing zone group
To add a new pricing zone group:
Click on the Add button on the right-hand side.


Configure the pricing zone group settings:

Name: Enter a unique name for the group.
Description: A basic description of the group.
Companies: Select which company(s) the group applies to.


Next, click on the (Polycon) icon on the right-hand side.


Click on the map to create a Start point for the zone.


Click again to plot multiple points to create a zone.

Note: Please ensure you click the Start point again to complete the zone.


Enter a name for the new pricing zone and click Confirm.


Then click on the zone's (Cog) icon from the Zones list.


Configure the pricing settings for the zone:

Copy From: If available, you can copy the settings from another zone you've already configured.
Include In Driver Commission: Enable to include the additional pricing in a driver's commission.
Add Exception: Select another capability to give it different pricing compared to the default pricing.
Price/ Cost: Enter a monetary amount that will be charged.


Click Confirm.

For our example, we have plotted two zones, one for central Manchester and another for the local university area.


Then click Save.
Note: You can add multiple pricing zones by clicking on the (Polygon) icon again, and also reorder them by dragging a listed zone using the (:) icon.