The Company Info tab is where you will enter the basic details of your company.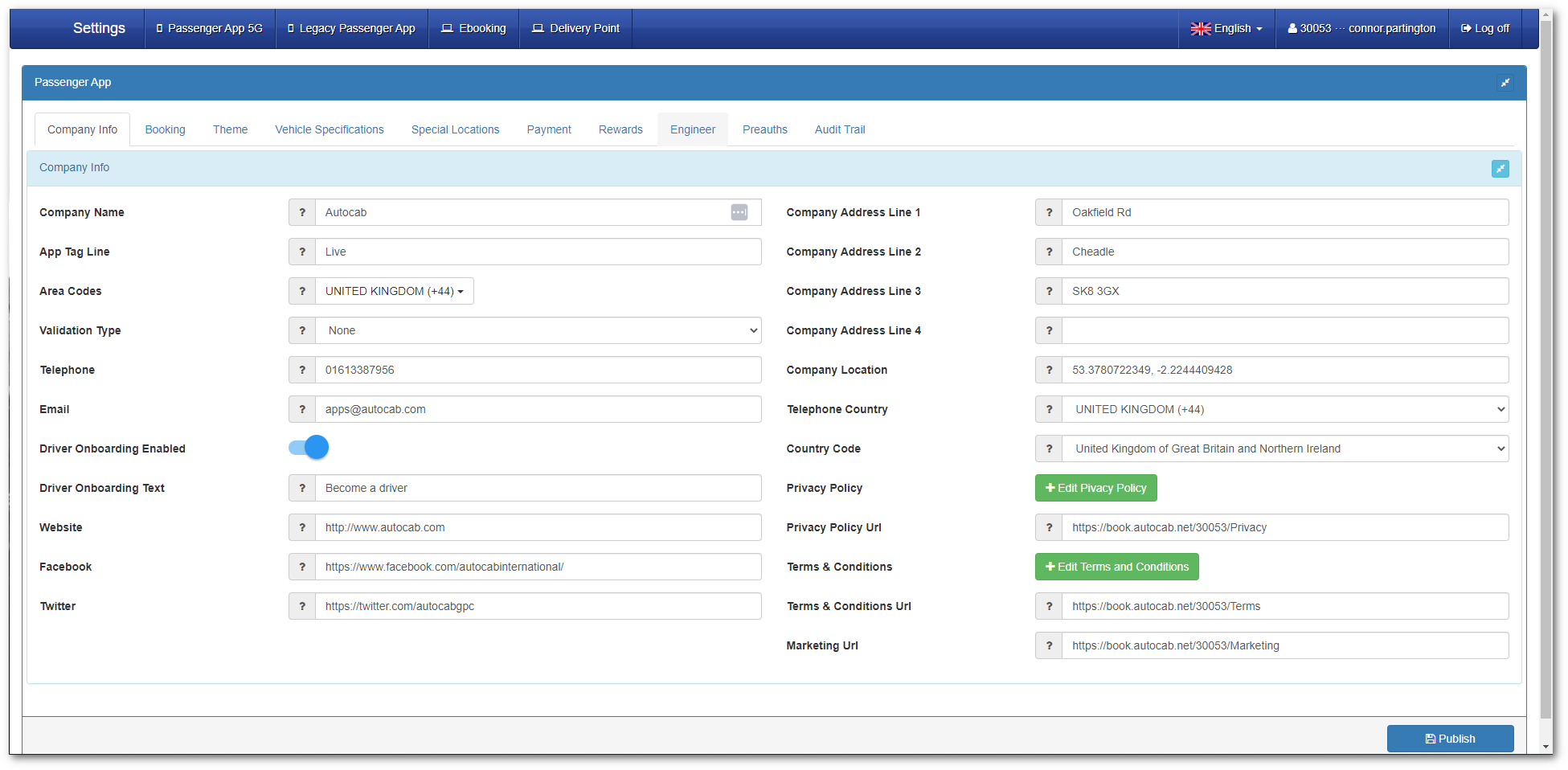 To access this screen:
Go to the AppSettings portal and click on the Passenger App 5G tab.


Then click on the Company Info tab.


The following settings can be configured:
Company Name: Enter the name of your company.
App Tag Line: Enter your company slogan or strapline.
Area Codes: Select which country codes customers are allowed to register with (E.g. +44 for the UK).
Validation Type: Select if users must validate their registration via a code sent by email, SMS or none.
Telephone: Enter the main telephone number for your company that customers can contact you on.
Email: Enter the main email address for your company so that customers can contact you.
Driver Onboarding Enabled: Enable to allow users to submit a driver application (Driver Onboarding module required).
Driver Onboarding Text: Enter what button text should appear on the app for the driver onboarding link (E.g. Become a driver).
Website: Enter the main website URL for your company.
Facebook: Enter the Facebook URL for your company.
Twitter: Enter the Twitter URL for your company.
Company Address: Enter the address of your company.
Company Location: Enter the coordinates of your company HQ (Which can be found using Google Maps).
Telephone Country: Enter the default telephone country code that will be shown on the app.
Country Code: Select which country your agents are primarily operating in.
Privacy Policy: Click to open and edit your privacy policy.
Privacy Policy Url: Enter the URL for your company's app privacy policy.
Terms & Conditions: Click to open and edit your terms and conditions.
Terms & Conditions Url: Enter the URL for your company's app terms and conditions.
Marketing Url: Enter the URL for your company's app marketing.
Note: Remember to click the 'Publish' button to save your changes and publish them live to your passenger app.