Here you will find the latest features, improvements, and bug fixes for the 365 Management.
To ensure you have the best experience using our product, we recommend updating to the latest version available.
Note: The features available to you will depend on the configuration and the current version of the 365 Management you're using.
What's New
Use Time Zone
New settings are now available that allow you to display multiple time zones on your system and for each company.
Use Time Zones: Enable to allow multiple time zones for each company operating on your system.
MDT Time Zones: Select which timezone the company operates in.
Prevent Late Prebookings
You can now prevent prebookings from being sent to a driver that may cause them to be late for their current bookings.
The following settings can be found in Acceptance and Functionality Groups.
Enabled: Toggle to enable or disable prevent late prebookings.
Driver Can Override: This allows the driver to reject a booking without penalty if he has a prebooking coming up.
Estimated as Directed Time: This allows you to set an estimated completion time for 'as directed bookings' and send bookings out after this time.
Prevent Late Bookings Start: The time set here will perform checks and ensure a driver doesn't start any jobs that will make them late for a prebooking.
Zego Integration Settings
New settings have been added to the 'Advanced Settings' screen that allows you to integrate Zego as an insurance provider.
Note: The Advanced Settings are [ Engineer Only ] and should only be changed by a qualified Autocab engineer.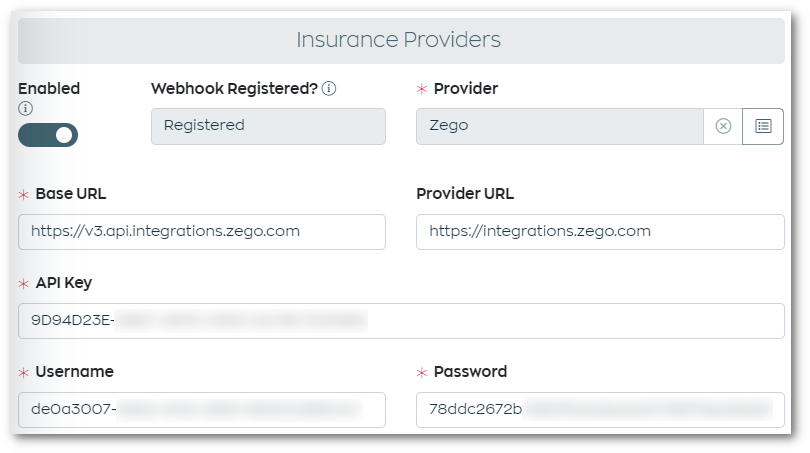 Pay By Link Mode
A new setting has been added to the 'Payments' screen within the Credit Card tab that allows you to select which mode Pay-By-Link should use for credit cards.

Chip and Pin Parameters
There are new chip and pin parameter settings now available in 'Payments' within the Chip & Pin tab.