The Bookings screen shows you an overview of your Ghost Booking & Dispatch system, including the active drivers, dispatched bookings, messages, shortcuts, and settings.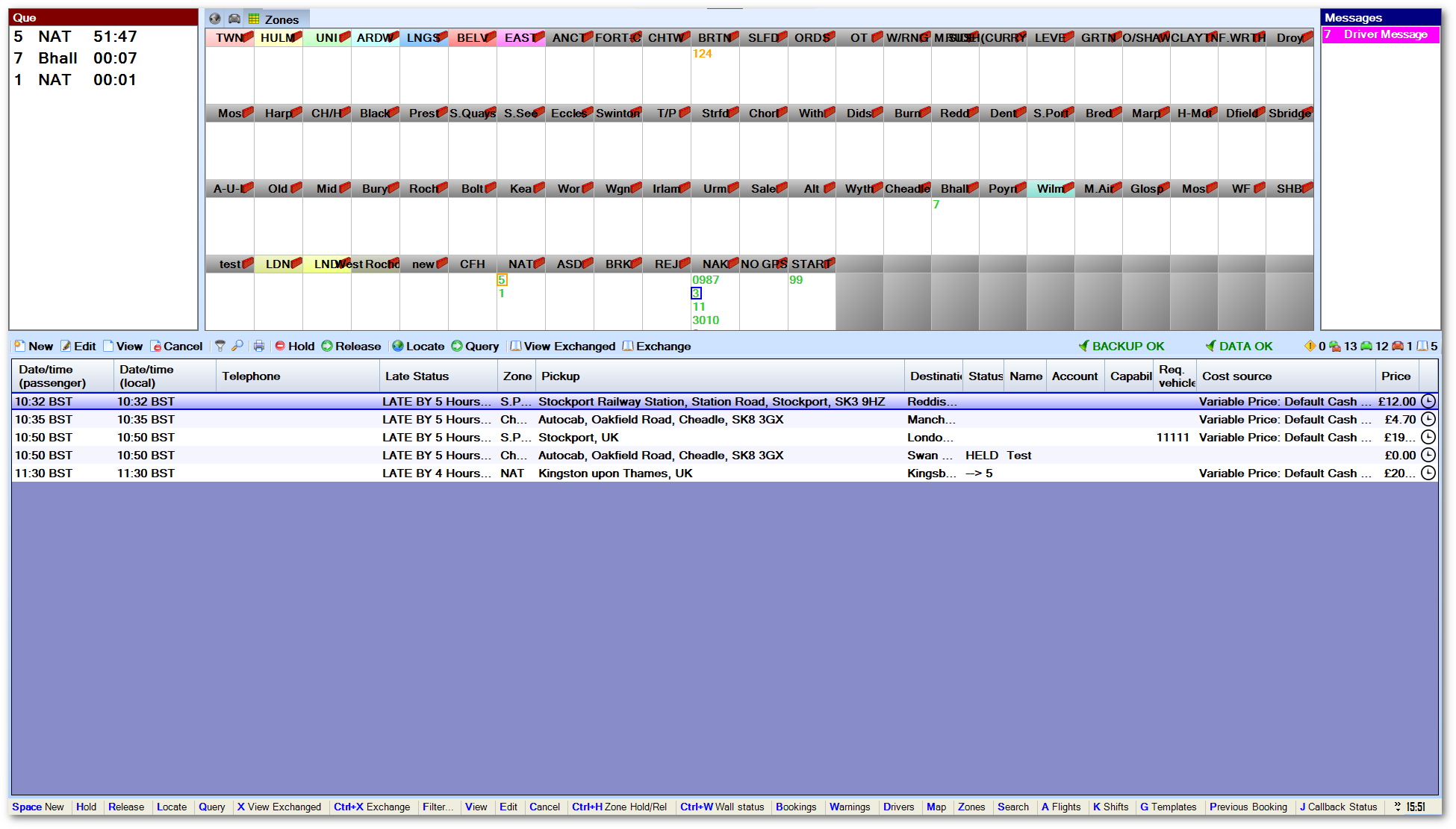 To access this screen:
Click on the Bookings button after logging into Ghost.


Vehicle Queue
The left-hand section contains the vehicle queue and is useful for checking which vehicles will be next in line for a booking:
Callsign: The vehicle's callsign.
Zone: Which zone the vehicle is currently in.
Time Clear: How long the vehicle has been clear of a booking.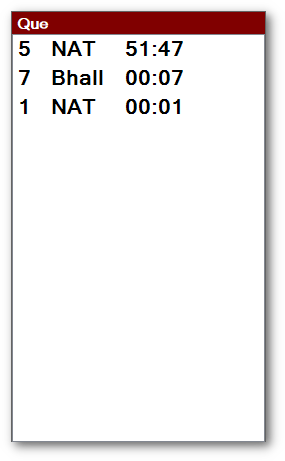 Note: The 'Time Clear' time will reset every time the driver swipes to complete a job.
Zones Grid
The middle section contains the zone grid and is useful for viewing how many vehicles are on-shift in a zone, as well as their status and queue order.

Note: Vehicles that are first in the queue order will receive booking priority.
Toggle view
You can also toggle between the zones and map view.
To do this:
Press the M key for the map, and Z key for the zones.


Note: You can zoom in on the map using your mouse or touchpad.
Driver Messages
The right-hand section contains driver messages and is useful for receiving from and sending messages to drivers.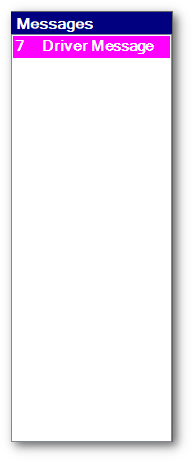 Sending a driver message
To send a message to a driver:
Press F9 to display the messaging options.


Press the New Message button.


Type the driver Callsign and enter the Message.


Then click Send.
Vehicle Summary
In the middle section, the following icons will provide you with a summary and status of your vehicles:
Warnings: The number of vehicles with warnings.
Total: The total number of fleet vehicles.
Clear: The number of vehicles that are currently clear of jobs.
Busy: The number of vehicles that are busy.
Active Bookings: The number of active bookings.

Active Bookings
The bottom section contains active bookings and is useful for tracking and managing active bookings.

Note: An 'Active' booking is a booking that is ready to be dispatched.
Shortcuts
The bottom section also contains shortcuts that are useful for quickly executing certain functions.

Space (New): Open the New Booking form.
B (Advanced): Open the Advanced Bookings page.
C (Cancel): Cancel an active booking.
Ctrl+H (Hold/Release Zones): Set certain zones to Hold or Release active bookings.
Ctrl+X (Exchange): Exchange a booking via Cab Exchange.
D (Dispatched): Open the Dispatched Bookings page.
E (Edit): Edit an active booking.
F (Filters): Used to apply different active booking filters.
H (Hold): Place an active booking on Hold.
Home (Rm Msg): Reply to a driver message.
J (Callback): Open the Callback Status page.
K (Driver Shifts): Open the Driver Shifts page.
L (Locate): Locate a booking.
M (Map): Change the zone view to the map view.
R (Release): Release an active booking to drivers.
S (Search): Open the modal for search options.
Ctrl+W (Wall Status): Open the Wall Status page.
Note: These shortcuts will change depending on which section or page is being focused on.