The Shift Patterns screen allows you to create shift patterns that control when a driver is allowed to work and log in/out of Driver Companion.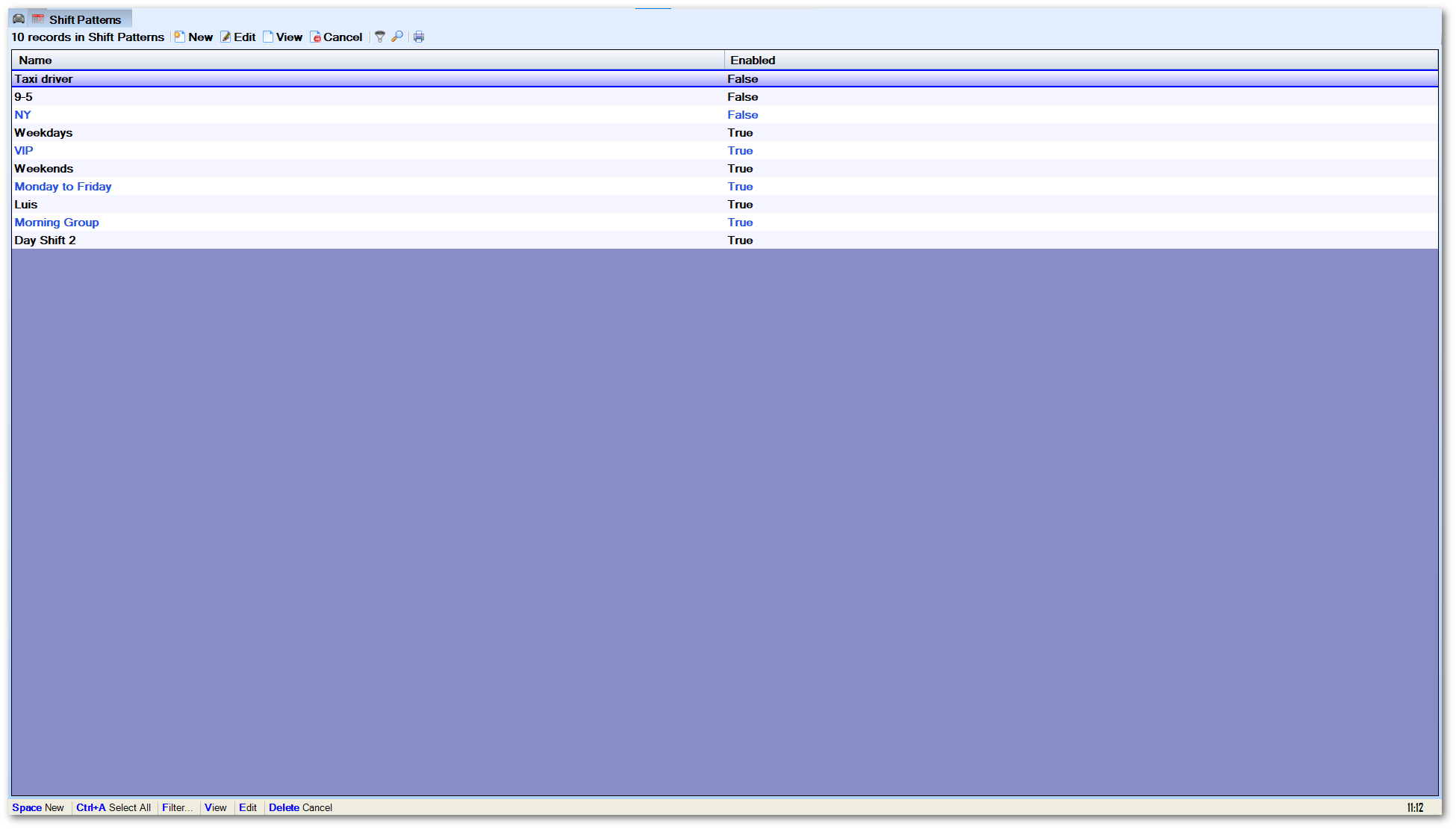 To access this screen:
Click on the Shift Patterns button from Management.


Add a shift pattern
To add a new shift pattern:
Click on the New button at the top.


Configure the shift pattern.


Then click OK.
The following settings can be configured:
Details
Name: The name of the shift pattern.
Enabled: Toggle to enable or disable the shift pattern.
Pattern
Shifts: Drag and right-click to add shifts to the table.

Working: The time in which a driver is working.
Start Shift: The time in which a driver can start their shift.
Finish Shift: The time in which a driver can finish their shift.
Start & Finish Shift: The time in which a driver can start or finish their shift.
Rolling Shift Options
Rolling Shift Start Date/Time: Set which day the shift pattern should start on.
Rolling Shift Rest Days: The days in which the shift pattern will be skipped.
Rolling Shift Pattern Days: The day frequency for the shift pattern.
Rolling Shift Special Days: Click to add special days to a shift, such as when a driver may have an extra rest day.
Working Hours Limit Options
Maximum Length of a Single Period On Duty: Set to the maximum length of a shift.
Maximum Rest Between Periods On Duty: The amount of time between shifts where a driver must rest.
Maximum Working Time During A Single Period On Duty: The total number of hours a driver can work during a single shift.
Period Over Which To Monitor On Duty History: How many days to monitor a driver's shift before reset.
Maximum Time On Duty During The On Duty History Period: Set to prevent drivers from working if they exceed their monitor shift hours.
Show Rest Countdown (mins): Set to show a countdown on Driver Companion when nearing a rest period.