Here you will find the latest features, improvements, and bug fixes for the 365 Control Centre.
To ensure you have the best experience using our product, we recommend updating to the latest version available.
Note: The features available to you will depend on the configuration and the current version of the 365 Control Centre you're using.
Improvements
Templates: Zone to Zone
The Zone to Zone table has been updated to include new shortcuts and features:
When editing a cell, if you navigate to another cell using the arrow keys it will automatically be in edit mode and the value will be highlighted.
Keyboard shortcuts will be displayed at the bottom of the table.
You can click and drag to select multiple cells.
The pivot cell will have a thicker border when doing a selection.
Keyboard shortcuts will only work if you have the table in focus.
Shortcuts:
Enter: Edit the selected cell
Double-click: Edit the selected cell
Ctrl + Enter: Update every cell in a selection with the pivot cell
Arrow keys: Navigate through each cell in either direction
Shift + Arrow keys: Expand or retract the cell selection in either direction
Ctrl + Arrow keys: Jump to the start or end of a row/ column
Inactive drivers
Deactivated drivers will go into the Drivers (Inactive), and if reinstated they will return to the Drivers screen. The Drivers (Inactive) does not have an "Add" button or charts, however, you can edit drivers.
Bid for Prebooking: Penalties
You can now set longer penalties for drivers who reject or recover pre-bookings. This setting can be found in the Acceptance tab within Functionality Groups.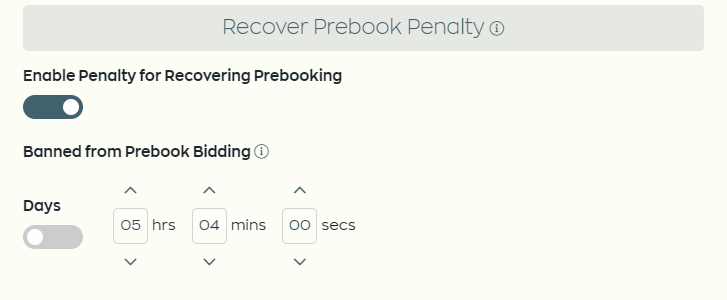 Setting moved: Incremental release code
The "Incremental release code" setting has been moved from the permissions tab to the General tab within Users > Roles > General.
Bug Fixes
Fixed: An issue with background tasks that prevented the app users' export from being downloaded.
Fixed: When selecting an item within a list, the top item was also half-selected even though it wasn't selected by the user, and then became fully selected when sorting the columns.
Providing feedback
Share your thoughts on the documentation and help the Autocab team improve it for yourself and others! To provide feedback, submit a request on Autocab Help or post in the community forum.